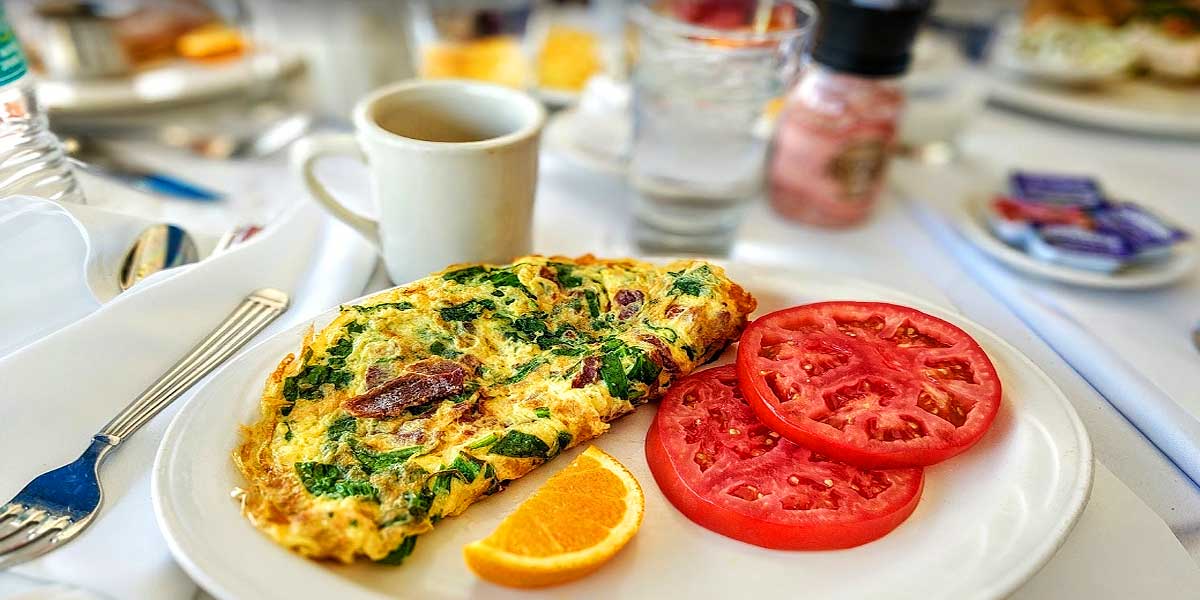 LUNA ROSA'S BENEDICT SPECIALS
(2) XL ALL NATURAL POACHED EGGS, TOASTED ENGLISH MUFFIN, HOMEMADE HOLLANDAISE, CRISPY POTATO CAKE
CANADIAN BACON $12  |  LUMP CRAB MEAT $21 |  BLACKENED SHRIMP $17 | CHICKEN SAUSAGE $11 | PORK SAUSAGE $10 SMOKED SALMON  $16  |  ANGUS BEEF TENDERLOIN $21 |  PASTRAMI /CORNED BEEF HASH $13 |  SPINACH $10 
---
MAKE YOUR OWN OMELETTE $8
3) XL ALL NATURAL" EGGLANDS BEST" EGGS SERVED WITH SKILLET POTATOES, AND YOUR CHOICE OF INGREDIENTS BELOW:
$2 ADD BACON, HAM, ARTICHOKE, FETA ROASTED PEPPERS, GORGONZOLA, PROVOLONE, & SUN DRIED TOMATOES
PASTRAMI & CORNED BEEF HASH OMELETTE $14.00
(3) XL ALL NATURAL" EGGLANDS BEST" EGGS W/PROVOLONE CHEESE, ONIONS, BELL PEPPERS, HOLLANDAISE SAUCE, DICED TOMATOES AND CHIVES
$1.50 ADD AMERICAN SWISS, MOZZARELA, CHEDDAR CHEESE, AND EGG WHITES
MAKE YOUR OWN OMELETTE WRAP  $8
(3) XL ALL NATURAL SCRAMBLED EGGS IN A SUN – DRIED TOMATO TORTILLA WRAP, SERVED WITH SIDE OF SALSA AND YOUR CHOICE OF INGREDIENTS BELOW:
$0.75 ADD GREEN PEPPERS, SPINACH, SALSA, ONION, MUSHROOM, TOMATOES, SOUR CREAM, JALAPENOS
PANCAKES, WAFFLES
&
FRENCH TOAST
COCONUT CRUSTED FRENCH TOAST $16.00
CHALLAH BREAD IN BATTER OF PURE VANILLA & EGG, BANANA,STRAWBERRIES, NUTELLA, MACADAMIA NUTS, MAPLE SYRUP AND WHIPPED CREAM
SHORT STACK BUTTERMILK PANCAKES $6
FULL STACK BUTTERMILK PANCAKES $8
LUNA ROSA FRENCH TOAST  $8.50
CANNOLI/ CREAM BELGIAN WAFFLE $14
GOLDEN WAFFLE TOPPED WITH CANNOLI CREAM, BANANAS, STRAWBERRIES & ROASTED ALMONDS & DRIZZLED WITH CARAMEL SAUCE
BANANA BERRY BELGIAN WAFFLE $11
FRESHLY CUT SEASONAL FRUIT BOWL $6.00
FAGE YOGURT $13.50
WITH GRANOLA, RAISINS, WALNUTS, HONEY, STRAWBERRIES AND BLUEBERRIES
LOADED HOME FRIES $11.00
TOPPED WITH EGGS, CHEDDAR CHEESE AND CRUMBLED BACON, TOPPED WITH CHIVES AND DICED TOMATOES
BOWL OF STEEL CUT OATMEAL $4.50
ADD FRESH STRAWBERRIES, BLUEBERRIES OR BANANAS $2.50/EA OR $6.95 FOR BOWL OF ALL 3 — EXTRA WHIPPED CREAM OR MAPLE SYRUP 0.75 
SIDES AVAILABLE WITH EGGS, OMELETTES, PANCAKES, WAFFLES
&
FRENCH TOAST
CHICKEN  SAUSAGES $3 .95
SMOKED SALMON $9.25
PASTRAMI – CORNED BEEF HASH $4.25
PORK SAUSAGES $3.25
APPLE SMOKED BACON $3.95
SMOKED GRILLED HAM $3.25
HORMEL CANADIAN BACON $3.95
TAYLOR NJ. PORK ROLL $3.25
ONE XL EGG 3.00
PHILADELPHIA SCRAPPLE  $3.25
POTATO CAKE  $2.95
SKILLET POTATO $1.95
SLICED TOMATOES $1.95
HOMINY GRITS $2.25
BANANA BREAD $3.25
YOGURT $3.95
BAGEL & CREAM CHEESE $3.95
TOAST OR ENGLISH MUFFIN $1.95
GLUTEN FREE WHOLE GRAIN BREAD $3.25
EZEKIEL BREAD $2.50
W/EGGS OR OMELETTES
SUB GLUTEN $1 – SUB EZEKIEL .50
TIM'S STEAK & EGGS $19.00
(2) XL ALL NATURAL EGGS, BEEF TENDERLOIN MEDALLIONS WITH SKILLET POTATOES
EGGS

– 

SALMON 

&

ONION $14
2  XL EGGS SCRAMBLED WITH SMOKED SALMON AND ONIONS SERVED WITH SKILLET POTATOES
CREAMED CHIPPED BEEF $11.00
THINLY SLICED BEEF IN OUR HOMEMADE BECHAMEL SAUCE OVER TOASTED WHITE BREAD
LUNA ROSA BREAKFAST PIZZA $17.00
BREAKFAST SAUSAGE, MUSHROOMS, SPINACH, APPLE SMOKED BACON, ROASTED PEPPERS, MOZZARELLA AND 2 EGGS ANY STYLE
SCOTTISH SMOKED SALMON $17
SMOKED SALMON, CAPERS, RED ONIONS, TOMATOES, CREAM CHEESE AND BAGEL
THE EGG BREAKFAST 7
2 XL EGGLANDS BEST EGGS, CHOICE OF SKILLET POTATOES, GRITS, SLICED TOMATOES OR A SMALL BOWL OF OATMEAL WITH BROWN SUGAR
BLACKENED CHICKEN COBB $15.00
ROMAINE, BLEU CHEESE, BACON, EGG, AVOCADO, TOMATO, BLACKENED CHICKEN SERVED W/RANCH DRESSING
with MAHI $18 – SALMON $19 – SHRIMP $17 – CRABMEAT  $19
CHARGRILLED ATLANTIC SALMON $19.00
SALMON, MIXED GREENS, GORGONZOLA, CHOPPED APPLEWOOD BACON, RED GRAPES, SPICED WALNUTS AND A CITRUS VINAIGRETTE, GARNISHED WITH HONEY ONION MARMALADE.
with MAHI $18 – SALMON $19 – SHRIMP $17 – CRABMEAT  $19
MAHI MAHI CHOPPED SALAD $18.00
GRILLED OR BLACKENED MAHI, ROMAINE, RADICCHIO, CUCUMBER, CARROTS, RED ONION, CHICK PEAS, TOMATOES, RED WINE VINAIGRETTE
with MAHI $18 – SALMON $19 – SHRIMP $17 – CRABMEAT $19
CHICKEN CAESAR SALAD  $14.00
CHICKEN BREAST, ROMAINE, CROUTONS, REGGIANO CHEESE, CAESAR DRESSING
with MAHI $18 – SALMON $19 – SHRIMP $17 – CRABMEAT  $19
WALNUT CHICKEN SALAD $14
WHITE MEAT CHICKEN SALAD, RED ONIONS, MIXED GREENS, SPICED HONEY WALNUTS AND RED FLAME SEEDLESS GRAPES
with MAHI $18 – SALMON $19 – SHRIMP $17 – CRABMEAT  $19
CALAMARI FRITTO MISTO  $14
CRISPY BATTERED CENTER CUT CALAMARI, ZUCCHINI, SQUASH SERVED W/TOMATO SAUCE
LINGUINI CLAMS $21.00
LITTLE NECK & BABY CLAMS, SAUTEED WITH GARLIC AND EVOO WHITE WINE OR POMODORO SAUCE
PAPPARDELLE BOLOGNESE $17.00
WIDE NOODLE PASTA, D.O.P. SAN MARZANO TOMATO SAUCE, STEWED WITH 100% GRASS – FED GROUND BEEF
RIGATONI al POMODORO $13.00
WITH MEATBALLS $18
CATCH OF THE DAY FRANCESE  $23.00
FRESH DAILY CATCH FILET FRANCESE STYLE & WINE LEMON SAUCE SERVED OVER STEAMED SPINACH
FRESH VEGETABLES
BROWN RICE $5 | BEEFSTEAK TOMATO $5 | ZUCCHINI FRITTI $5 | GARLIC SPINACH $5 | ASPARAGUS SPEARS $5
SANDWICHES
SERVED WITH FRIES OR COLESLAW
100% BLACK ANGUS CHEESEBURGER $14.00
BEEFSTEAK TOMATOES, CRISP LETTUCE, RED ONION, DILL PICKLE SPEAR, TOASTED ROLL
THE OMG IT'S-NOT-A-BURGER BURGER $14.00
A VEGGIE BURGER THATS LOOKS, SIZZLES & TASTES LIKE A REAL BACKYARD BURGER WITH LETTUCE, TOMATOES, PICKLES AND CHIPOTLE A/OLI ON TOASTED ROLL
LUNA ROSA VEGETARIAN SANDWICH $15
TOMATOES, CUCUMBER, ARUGULA, AVOCADO, FETA, PICKLED RED ONION & PESTO AIOLI ON A SESAME HOAGIE ROLL
FOR NON VEGETARIANS ADD BACON $3.95
LUNA ROSA BIG BLT $11.00
SIX SLICES OF APPLEWOOD BACON, LETTUCE, TOMATOES, TOASTED BREAD, MAYO WITH DILL PICKLE SPEAR
TUNA MELT CLASSIC PANINI $11
TUNA SALAD, ONIONS, BACON, SWISS CHEESE GRILLED ON RYE BREAD WITH DILL PICKLE SPEAR
GRILLED MAHI SANDWICH  $17.00
GREENS, TOMATOES, PESTO AIOLI, TOASTED ROLL
TURKEY CLUB WRAP $15.50
TURKEY BREAST, BACON, ROMAINE,TOMATOES, CRANBERRY MAYO IN A SUN DRIED TOMATO WRAP
LUNA ROSA FRENCH DIP 18
THINLY SLICED AGED PRIME RIB WITH A SIDE OF AUS JUS & HORSE RADISH AIOLI
Gratuity not included. A 20% gratuity will be added to parties of 5 or more.
*Consuming raw or undercooked meats, poultry, seafood, shellfish or eggs may increase your risk of food borne illness.